Of Gardening Stores, Gardening Catalogs, and Hope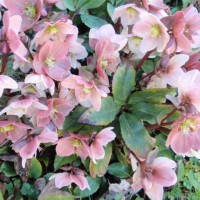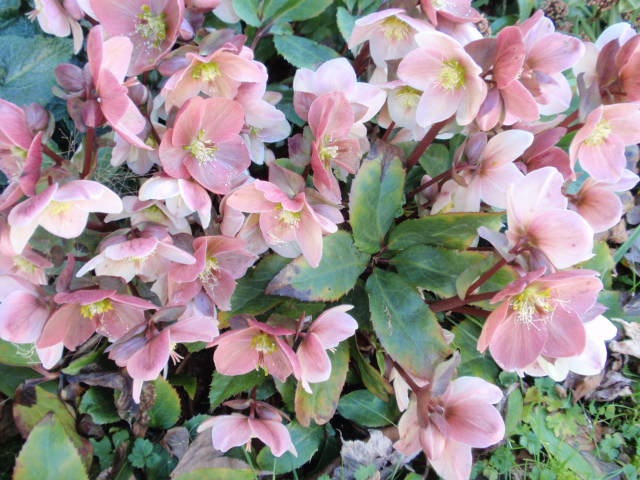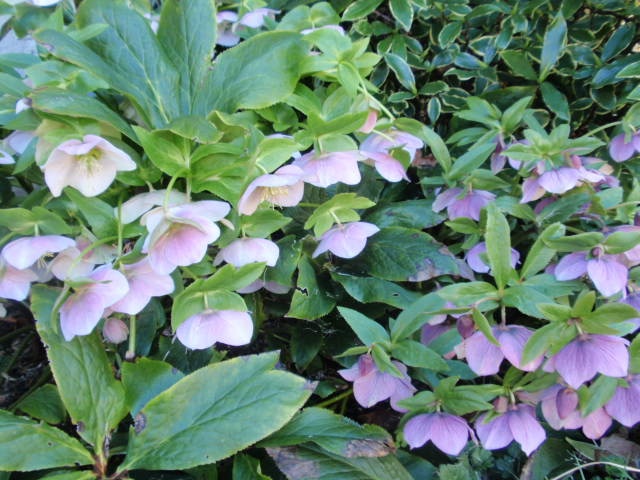 Hellebores are among the first perennials to bloom around our yard, sometimes showing their downward facing flowers as early as January in our mild maritime climate. That's also the time that the gardening catalogs start coming in the mail, so those two harbingers of warmer, sunnier days ahead are welcome lead-ins to the promise of post-winter life. The early blooming hellebores and the garden catalogs also remind me, in a gentle and warm way, of my parents.
One of the greatest and most unexpected joys of my life occurred when my parents, then in their seventies, made a transcontinental move to be a regular part of the lives of the very young grandchildren that had finally appeared in their lives after decades of hopeful waiting. Despite their age and the necessity of their leaving behind a dense network of dear family and friends, they voluntarily, in a spirit of adventurous joy, moved from Buffalo, New York to Washington State to spend the last decade of their lives with their daughter and son and their families. As they saw it, they could finally revel in being Grandma and Grandpa to those four young children, two of them twins, all born within three years of each other.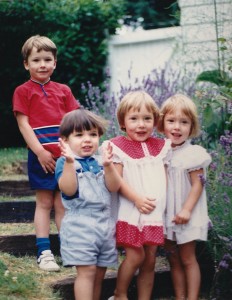 The house my parents lived in was on our block, just a brief walk down our street and up the hill, and there in the spacious back yard my father had a raised bed garden put in so that, for the first time in his life, he would have a place (and now that he was finally retired, the time) to try his hand at being a backyard gardener. While my mother's domain was that of annual flowers, particularly those she planted in the flower boxes which she endlessly fussed over, my father dreamed of the tomatoes, raspberries, carrots, and radishes we would harvest.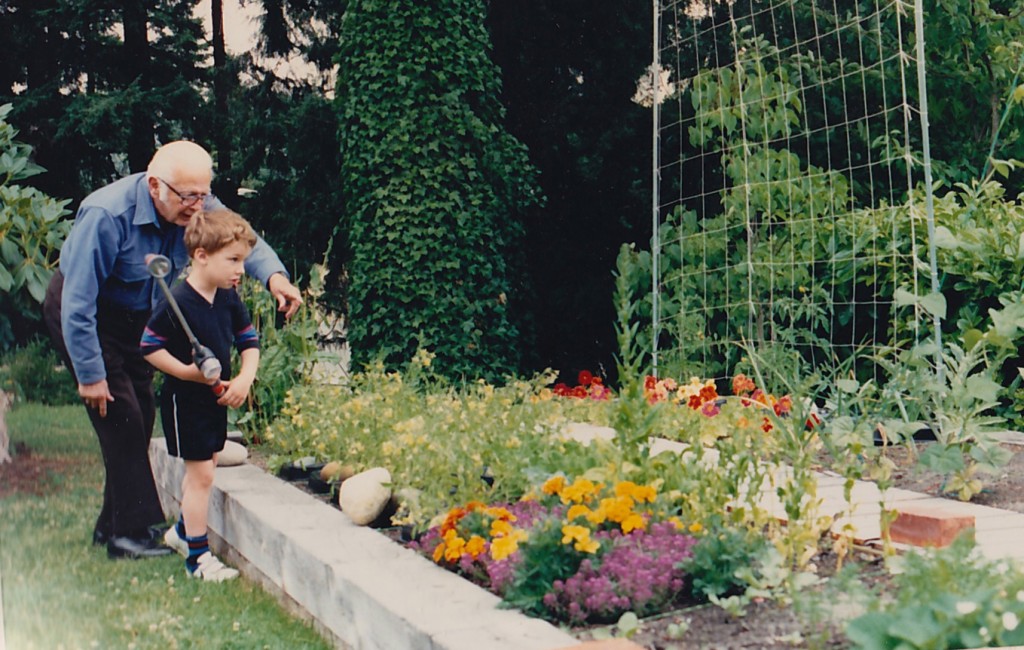 And harvest we did, though certainly not by the bushel-basket full.  In any case, I loved helping him with the gardening work, and since he and I were exactly on the same page when it came to dreaming of "next year's perfect garden" when those early spring catalogs started coming in, we ordered more gardening tools than our little raised bed garden could possibly need. (My mother had many a wry comment to make when the brown UPS truck pulled up yet again with another box she had not ordered.)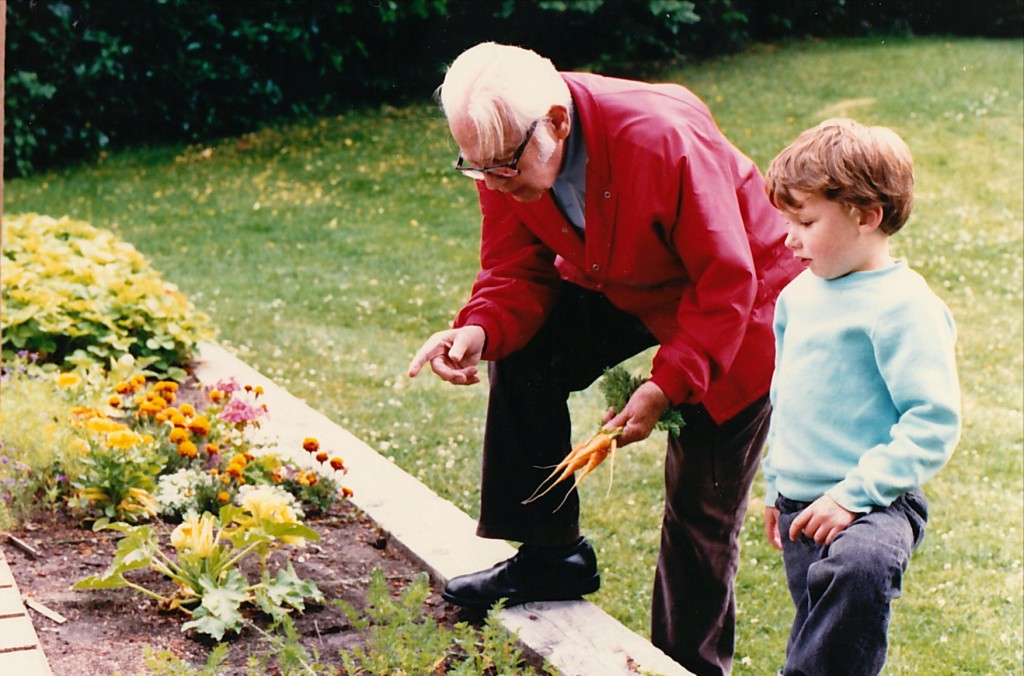 Those memories – now decades old – still warm my heart when certain triggers touch my soul.  Now that it's been such a long time since my parents were alive and able to engage in gardening activities, it is all the more precious to me to hear my father's words in my head as new piles of the latest gardening catalogs clutter my end tables and bookshelves. "Every year is a new beginning" my father used to say, as we would freshly hope, once again, that THIS year the harvest would be totally outstanding, the weeds would be easily conquered once and for all, and nature would be nothing but provident to us, with minimal work on our part.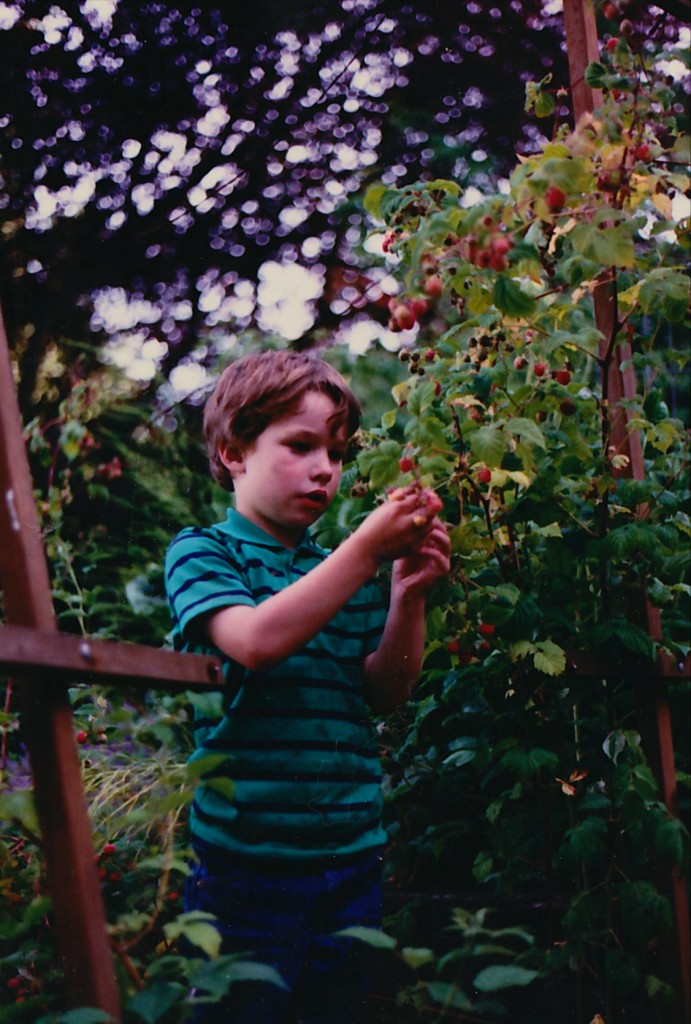 With that thought in my head, this past weekend I drove to three of my favorite garden stores to "look around" (always a deadly trap; see my post on Williams Sonoma as a Longing Machine).  Yes, I bought a few replacement plants for patio planters now mourning the death of their last occupants, and I also bought some needed supplies as well. But what struck me most of all in each of the stores this time was not the bursting splashes of color the decorators had so carefully staged through each of the stores, though those artfully positioned displays of plant life were certainly lovely and appreciated.
No, this time what I was most drawn to notice was the intergenerational interaction I saw in each of the stores, sometimes between a parent and a small child, other times between an adult child and an older, perhaps wheelchair-using parent.  In one case a little girl was excitedly calling to her parents as she ran back and forth among the herb display, particularly noticing and commenting on those that "smelled so good." I showed her how to rub the Corsican mint gently with her finger tips and then smell her fingers. She was so delighted that she ran to let her mother and father sniff, and they, in turn, ended up buying the plant so that she could continue loving this producer of olfactory beauty in her own yard.
In other cases, I heard conversations, sometimes in English, sometimes in Chinese, sometimes in Spanish, between people I judged to be son and father, son and mother, daughter and mom.  Even when I could not understand the conversation, it was easy to watch and see what was being demonstrated when a particular tool was picked up and its use was pantomimed by the adult child for the benefit of the elderly parent: "this will make things easier for you."
Much more than when my parents were still alive, I have gotten involved, in these recent years, in campaigns to involve more people in growing their own food – or at least caring where their food comes from. My daughter-in-law and son are members of a community garden that they and others have built on one of several formerly vacant eyesore lots which the city has made available for this purpose. I take part in education efforts (both online and face-to-face with my students) about GMOs, farmers' markets, slow food movements, and edible landscaping. I read those incoming gardening catalogs now not only with myself in mind, but also with the thought that gardening activities (e.g. saving water by xeriscape designs, replacing lawns with food gardens, involving the young generation in seed-to-meal schoolyard garden projects, getting involved in multi-generational gardening activities) can truly nurture us as whole beings, and not just hungry consumers.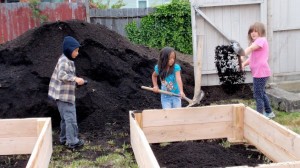 And always, my father's voice is what I hear when I feel particularly hopeful. "Every year is a new beginning."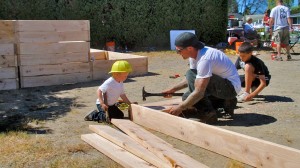 What would have happened if they looked like this? Imagine if the boy on the left was found dead, incontestably shot and killed by the man on the right. How differently the course of events would have gone! Racism is, at its deepest core, about the pre-linguistic, pre-behavioral, "in your gut" feelings of (fully human) "people like us" versus "those dangerous others" (who may just be less-than-human, and thus are all the more dangerous, cunning, and animalistically endowed). At a level that does not easily allow for conscious self-examination, there is an unspoken fear of "their" danger to "us" which motivates words, actions, laws, and policies regarding "them". The use of racial epithets, the creation of behavioral traditions  (e.g. residential segregation) and the enactment of legal tactics (e.g. Jim Crow voting strategies) all stem subsequently from those deep-seated concerns about keeping "those others" (safely) in their place. It is not easy to root out these elements of racism in ourselves and in our families. All humans like to think of themselves as "good people", and particularly among people who are educated and tolerant, it may come as quite a shock to come to find out that our assumptions about safety and danger have been, since earliest childhood, shot through with learned, though seldom explicitly articulated, associations connected with skin color and physical appearance. Furthermore, when white people hear the word "privilege", we/they fail to understand the real scope of this concept (which goes far, far beyond the economic background of one's immediate or ancestral family members). Privilege is first and foremost about not having to worry how the world works (differently) for "people like us" (as opposed to "people who make the rules"). You teach your teenager how to drive, and if you are white, you don't even think of adding life-or-death instructions (in minute detail) about how to act when a policeman pulls you over. Your kid goes out of the house dressed the way Mark Zuckerberg was dressed on the floor of the New York Stock Exchange and it never occurs to you that somebody with the power to arrest, shoot or even kill your son will defend his actions because "the kid was dressed like a gang-banger". Look again and again and again at that Photoshopped reverse-colored picture of two families' sons. If George Zimmerman's face were really as dark-skinned as it is in this picture, and if Trayvon's face were light colored, do you really think that Zimmerman would have been released without charges that night? But those Photoshopped skin tones are not what the police, and much of America, actually did see. What resonated with people who cheered Zimmerman's acquittal was the greater "probable danger" coming from the dark-skinned boy. And not because of the chunk of sidewalk....
read more