My Brother the Anthropologist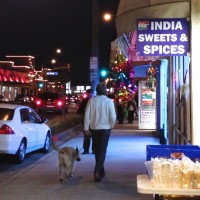 Jim has done and traveled a lot in his life since leaving our hometown of Buffalo, New York more than forty years ago, but I'm the one who's been the professional anthropologist, beginning with my fieldwork in India among Tibetan refugees at the end of the 1970s, continuing to this day as a professor sharing anthropological insights with my students in the same Northwest university for all that time since then.
But that's a résumé kind of description of me, and a not a very nuanced description of Jim's life either. Actually, if anthropology is made up of insiders' and outsiders' observations and interpretations of "what's going on here", both of us have always been the kind of curiously wondering, fly-on-the-wall observers of the human condition, especially attracted to experiencing – or at least observing and contemplating – what's different "here" as compared with "there".
We both grew up in a Polish neighborhood in Buffalo where there seemed to be a tavern on every corner, a church every second or third block, and at least as much Polish as English spoken on the streets or in the small neighborhood stores where we shopped for the small items we needed to buy on a walk-to-the store, almost daily basis (a quart of milk, a pint of ice cream, a bell for a bike, a license plate holder for our car, a bag of warm doughnuts, a loaf of rye bread). Car trips to supermarkets were not part of our early childhood.
But we were, however, "bussed out of our neighborhood" for school (or, more accurately, we attended a private Catholic school in a very different part of the city, courtesy of our parents' fierce desire to have us get the best possible education that their rusted little Plymouth could drive us to every morning. (We took the city bus home.) Perhaps that arrangement is what gave both of us the facility we needed to belong, yet not belong, to two very different social worlds. We could fit in either setting, do the fly-on-the-wall thing – observing ourselves as both as part of an inclusive "us", and then as an "us" as distinct from "them"- change settings, and then reverse the process with our other social world. Not a bad skill for an anthropologist-to-be!
So, fast-forwarding to the mid-November annual conference of the American Anthropological Association in California, my son (who accompanied me on this journey) and I took a side trip from San Francisco where the conference was being held, to San Clemente, where Jim and his wife Naoko live. Now Jim is a Vietnam vet who has experienced Vietnam, Cambodia, and Thailand in ways not typically advertised in travel brochures. Moreover, he is also an experienced traveller to other Asian settings – India for spiritual quests; Hong Kong/China for reasons related to business and personal connections. Couple that with the fact that none of us that day wanted to spend our precious 40 hours together at any of the nearby showplace tourist sites such as Disneyland or Sea World, and what transpired was Jim the anthropologist, showing his sister and nephew how to have a good time in So Cal doing "small" things, especially in ways that involved our micro-participation in the lives of the local "natives". In this state of mind, we got in the Prius expectantly, regaling my son with family tales of our father assuring our mother that yes, we had enough gas "to get to Niagara Falls and back" (an often cited but famously wrong calculation, one snowy Buffalo night).
Our first stop was Little Saigon – a neighborhood in Westminster (east of San Clemente, roughly midway between Los Angeles and San Diego). There we went first to a little hole-in-the-wall Vietnamese sandwich shop that Jim and Naoko had found on Yelp.  The phrase "Vietnamese sandwich shop" (like "Cambodian donut shop" – and please note the spelling here) could use some anthropological explication. The ethnic qualifier here is important, signaling that such a place is not the kind of sandwich- (or doughnut-) selling establishment that Americans who think of themselves as "mainstream" would expect to find. What's going on here is fusion, glorious fusion!
As early as the 17th century, Jesuit missionaries to Vietnam from France began not only trying to make converts to their religion, but also, less self-consciously, I would presume, they brought French additions to Vietnamese national cuisine. By the time French Indochina was a recognized space on world maps, the smell of freshly baked French bread was certainly wafting through many an urban neighborhood.
And so when waves of Vietnamese refugees and immigrants came to California during and after the Vietnam war, this mixture of warm French rolls and Vietnamese meat and vegetable fillings became a staple offering in what would become yet another California-bred entrepreneurial invention: Vietnamese sandwich shops, where people of all ethnic backgrounds could get a tasty, substantial, and amazingly cheap meal.
I loved the non self-conscious cosmopolitanism of the place we went to. Blue collar workers, many of them speaking Spanish, white retirees, Vietnamese families as well as old Vietnamese men – all seemed to be enjoying their hoagie-roll sized sandwiches (or walking out with a bag of warm, fragrant plain French rolls).The menu posted over the open counter was in three languages (Vietnamese, Spanish, and English). The food was tasty, filling, and well worth the lunch stop.
We continued on to another Vietnamese mini-mall – this one anchored by a Vietnamese food court with multiple places to eat, ringed by numerous jewelry shops and several places selling ginseng products. The place we stopped in and browsed through for the longest time was a shop that sold many, many different types of tea – as well as the ingredients for the Chinese doctor there to compound various types of Chinese medicines. (He sat in the back, reading a thick Chinese text, and briefly spoke with Naoko in Japanese.)
Back in the Prius, we drove west to Compton, passing the tied-down Goodyear blimp along the way, heading even farther west to Torrance, where Naoko spotted a Daiso store. This 100 yen/$1.50 institution, like our Dollar Stores, just begged to be explored, so again, an anthropological expedition was in order. In the spirit of bargain hunters everywhere, we even bought a few trifling items there.
One final Asian neighborhood beckoned for us to experience before returning to San Clemente: Little India, on Pioneer Boulevard in Artesia, just south of Los Angeles. Here we parked the car and walked up and down the boulevard, looking into the shops that sold saris, displayed 24-karat gold jewelry, offered Indian dance classes, and of course sold Indian food.  Jim knew a place – the Saffron Spot – that specialized in kulfi, the dense, creamy Indian ice cream that often includes cardamon and/or rose water, and we all got double cones of varying flavors which we enjoyed while walking back to our car.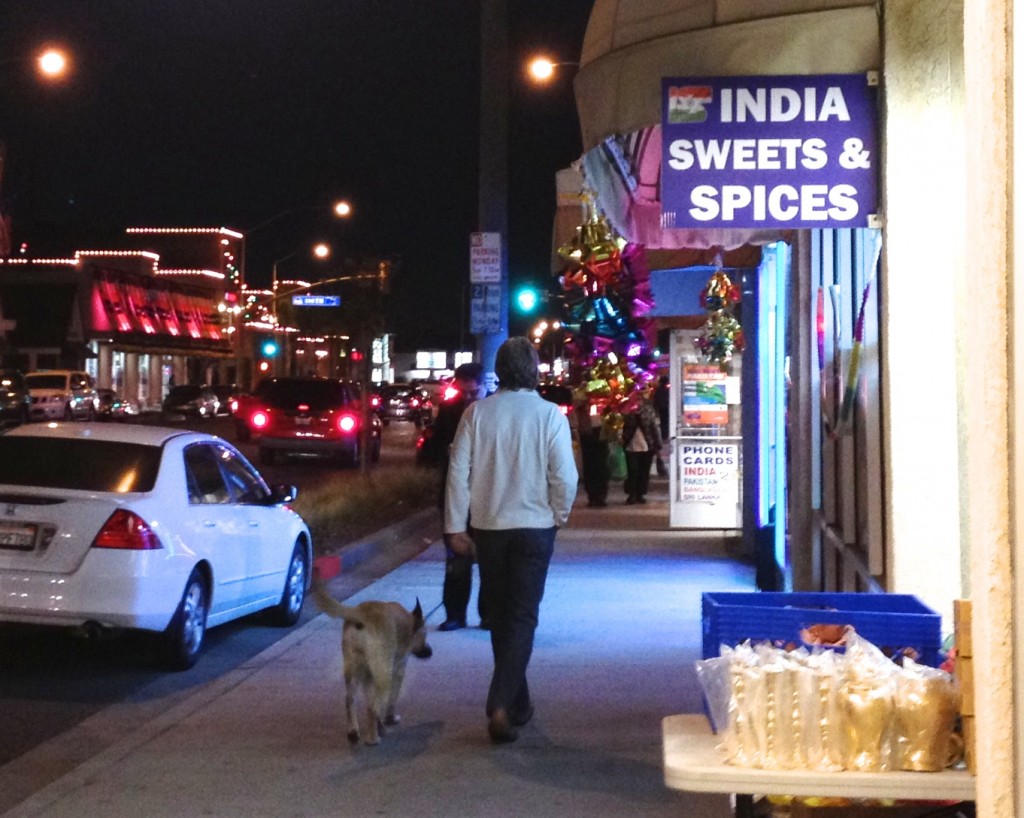 Our last meal of the day on this excursion was not Asian but a vintage California/Western states fast food chain: In-N-Out burger – an institution that Jim now fondly associates with his daughters' visits to California ("We have to eat there because when we come here, we always go there!").  Prices were astonishingly cheap, quality was good, and best of all for Dharma, Jim's dog who rode with us everywhere that day, this place offered her a chance for her very own hamburger.
So what might we identify as the themes of this day-trip in the Prius? Tasty culinary surprises? Cheap eats and entertainment? Conversations that incorporated three generations, the oldest family members now physically gone, but definitely still a vibrant and beloved part of our lives? And what about that fly-on-the-wall image from so long ago? With three of the four of us identifiable as Euro-descendants, we could hardly make our silent observations invisibly, blending unnoticed into more than one of the numerous social worlds of California, as my brother and I had done decades ago when our school and neighborhood settings were so very different, but we still could pass as "insiders" in either of them.
But then again, maybe we did manage to do something not too dissimilar. What I liked best about our day-trip with my brother as guide was the way he opened up the possibility for us to see "his" California with our imaginations wide open.  We heard at least five different languages being spoken around us as vibrant, daily means of communication. We tasted and smelled flavors and textures that were not "the usual" for us. Above all, we reflected on the lives of the people we saw going about their ordinary business – now in a commercial setting like a store or eating establishment, now walking the streets in neighborhoods that ranged from just south of Watts to Laguna Niguel.
In between the relaxed ebb and flow of conversation in the car, we simply looked silently outside the car windows, and Jim and I both remembered and commented on looking out other car windows decades ago, driving with our parents between downtown Buffalo and our home via Broadway, the name of the street where we lived. Yes, it was "our" street, right in the heart of the Polish neighborhood, but Broadway was also a state highway that traversed very marked and different racial and ethnic enclaves of the city as it headed out from the hub of downtown to the exurban parts of the county and beyond, all the way across the state.
We talked about Broadway in the Prius, that day of our short visit to So Cal, and our parents' grandson listened. What he heard us reflect and remark on was our appreciation of the amazing gift our parents unselfconsciously passed on to us: the ability to look out those car windows and wonder – without necessarily judging, and most certainly without ever hearing or using any derogatory racial or ethnic labels – about the lives of those people in Buffalo long ago who, on hot summer evenings, seemed to live mostly on fire escapes and folding chairs set up on grass-less, cracked and broken sidewalks. With no formal anthropological training at all, our parents had penetrated right to the heart of anthropology, guiding us, mostly wordlessly, to see the strange as familiar and the familiar as strange. What a cause for wonder indeed!
Matthew, 26:59-66 (2010) from Passio Domini...
read more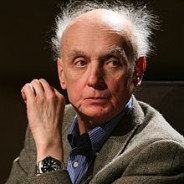 Sound track from The Ninth Gate (1999)...
read more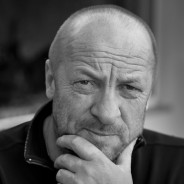 From Preisner's website: "Once, we had a joint conception to create a concert telling a life story. The premiere was planned to take place on the Acropolis in Athens. It was intended to be a large event, a hybrid of a mystery play and an opera. Krzysztof Kieślowski would be the director, Krzysztof Piesiewicz was responsible for the script, and I was planning to compose the music. "Once, we thought it might be the first of a series of musical performances, to be developed in various interesting places around the world in the next few years. "But it was life that authored a different ending: Krzysztof Kieślowski died on 13th March 1996. "The first part of Requiem for my friend is meant as a farewell to Krzysztof Kieślowski. "I dedicate this music to him." Zbigniew Preisner album released 16 May 2011 Tracks: Officium – 00:00 Kyrie eleision – 3:56 Dies irae – 9:46 Offertorium – 14:40 Sanctus – 17:37 Agnus Dei – 20:46 Lux aeterna (Światłość wiekuista niechaj mu świeci) – 22:26 Lacrimosa – 24:22 Epitaphium – 27:40 Meeting – 30:40 Discovering the World – 35:59 Love – 38:42 Kai Kairos (Ecclesiastes 3, 1-8) – 41:07 Ascende huc – 50:48 Veni et vidi – 53:04 Qui erat et qui est – 55:46 Lacrimosa – 1:00:12 Prayer (Panie Boże wspomóż nas – 1:04:15 Lyrics (in Latin, Greek, Polish, and English translations) are...
read more