To My Cousin Kathy (August 10, 1954 – April 15, 2012)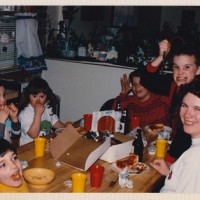 Who would have predicted, 30 years ago when we were both newly pregnant with the new life that would become our first-born sons (born two days apart in the early months of 1983), that the letter-writing you started between us would grow and develop to make us so close, so verbally attuned to each others' lives?
You were the premier family correspondent, with your long, newsy letters delighting your recipients. I learned to follow your lead, attempting to match the level of detail and feeling that you put into your writing. Trying to put in words the physical pain of childbirth? Check! Sharing pictures of beaming grandparents? Check! Proudly describing our one-year old sons with the 30-word vocabularies? Both of us – check!
Later there would be other topics of conversation, not always so triumphant. Your daughter's critically necessary heart operations. Concerns about our kids making it through the teenage years. Worries about our parents' health issues, in particular, both our fathers' degenerative Parkinson's symptoms, ending, several years apart, with their deaths.
There was so much loving pride in your letters and emails about your children.  Timmy's starring role in his kindergarten play. Later, Timmy the trumpeter playing Beethoven's Song of Joy at your brother's wedding. And beyond that, Lisa's numerous dance recitals, with you shortening all those recital costumes for her, year after year. Timmy became Tim, and your heart almost burst with pride at his musical accomplishments all through high school and at his successes in college and his graduate school degree. Lisa, guided by you and Jim, came to enjoy a social life "more active than yours". And Billy shone in soccer, giving you countless highs as you watched and cheered him on game after game. When he left for the first time to go to New Mexico to attend Philmont Scout Camp, you bawled and hugged his pillow after dropping him off at the airport. And he too made you so proud of his successes in college and his achieving a graduate degree. And you came to love the two women – Lindsay and Donna – who would be joining your family as your future daughters-in-law.
Yes, in emails that were sometimes long, sometimes quick in succession, sometimes just short little updates, we talked (and sometimes worried or even complained) endlessly about our kids, our siblings, and our families, both immediate and extended. When holidays came and we ran around, harried by our job responsibilities colliding with our needs to shop and wrap presents and plan big meal events, we often got on the computer several times a day just to vent to each other about "this craziness". To each other, in our deliberate affirmation of each other as close and trusted confidants, you and I became at least as intimate as sisters – which, in our real families, neither of us had.
Living as we did a continent apart, we only saw each other twice in the past three decades, both times occasioned by family funerals that I attended with my mother and one or both of my sons. The first of those events took place when your grandmother (my mother's sister) lost her oldest son, Len. Our kids were all together for the first and only time then, eating pizza in your kitchen.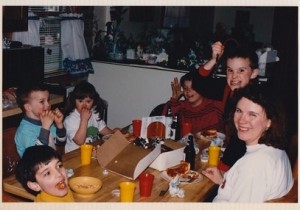 The next and last time I saw you was when Aunt Jeanette died, and this time only my son Erik accompanied my mother and me to Buffalo.  We never gave a moment's thought to the possibility that we would never see each other again. After all, we had email…
In the process of preparing to write this reflection, I have spent hours and hours re-reading some of those emails between us. I am horrified that your earliest references to "not feeling good" go back to July. How could I not have suspected that the very disease that was the center of your professional life as a registered nurse at the Roswell Park Cancer Institute was already stealing your own life away?
Most minutes of the day, I still don't believe you are not here (or "there", far away from me in Buffalo).  Writing this now is so much like all those hundreds of other times over the years when I would simply sit down at the computer to write you another long email. I would think about what I wanted to share with you, or about what you had recently written to me, find the words for my thoughts, type, and just take for granted that you would read my email and answer me. What do I do now, Kathy?
Your very last email to me (April 3) said, "This is tough – I always want to send you lots of detailed email.  I am still at the hospital … making arrangements to go home tomorrow. I think I will be more at peace being home with my family…. I will be where I am supposed to be – at home with my family."
There were a few brief text messages between us after that, but your eloquent silence about the detailed emails that would no longer be forthcoming from you warned me what was coming.
Your funeral is tomorrow, and I will not be there. I have read the online comments that so many people have shared about you, praising your kindness, compassion, love of life…  Many of them knew you much better than I did, face to face. But through thirty years of sharing mainly words with each other (rather than visits, touches, or physical gestures of closeness) we came to be so virtually intimate that I feel I have lost a part of my self. Toward the very end of our communication (which became sparse, almost whispered texts rather than emails), there was so little I could say to you that really mattered that I would simply end my texts back to you with the words that mattered most.
Love ya, Kathy